Imagine spending years feeling isolated and alone as you navigate a long winding road to diagnosis, searching for answers.  You finally hear the words "multiple sclerosis" (MS) and although shocking, you feel some sense of relief to have an answer. But as you search for stories of others who have walked this same path, the faces staring back at you are nothing like your own. Once again, you feel isolated and alone, this time with the shame of feeling different.
Future lawyer and chronic illness advocate, Lauren Work is on a mission to change the narrative of MS and improve health outcomes for underrepresented women. Since her diagnosis, she has become a leader within the MS community, dedicating herself to changing perceptions of the disease and empowering other women of color to navigate life with MS.
Lauren's story
At just 18 years old, Lauren began having blurry vision to such an extent that an eye doctor, quickly realizing the issue was not with her eyes but rather with her brain, urged her to go to the emergency room. That led to a battery of tests which revealed optic neuritis – inflammation of the optic nervei. Despite the condition being a common presenting symptom in people with MSii, Lauren did not receive her diagnosis of relapsing-remitting multiple sclerosis (RRMS) for another three years. Patients with RRMS have flare-ups of the disease, or relapses, in between periods of recovery, or remissionsiii.
Lauren Work, living with MS
"I do believe that my diagnosis was delayed simply because as a young, Black woman, I didn't fit the mold of the typical MS patient," Lauren said. "That reality hit home when I couldn't find stories of other women of color with MS. I didn't see stories about millennials with MS. I didn't see myself or my community."
The shock of being diagnosed with a serious, chronic disease, combined with a sense of shame and feeling like an outsider, sent Lauren into silence.
The importance of health equity
Although MS has historically been considered a Caucasian condition, it manifests across most ethnic groups, including African American, Asian and Hispanic/Latinx communitiesiv. And in fact, recent incidence reports suggest an increasing rate of MS among African Americans compared with Caucasiansv. There is also evidence suggesting that MS can progress more quickly in African Americans, which may necessitate a more aggressive treatment approachvi. Despite medical advancements across the board, health outcomes are inconsistent and often due to factors beyond the control of patients and doctors. Health disparities such as age, gender, race, ethnicity and socio-economic level are by no means new to the medical industry. COVID-19 is just one example of an instance that highlighted the issue on a larger scale, but even before the pandemic, underrepresented populations had a difficult time being heard by medical professionals.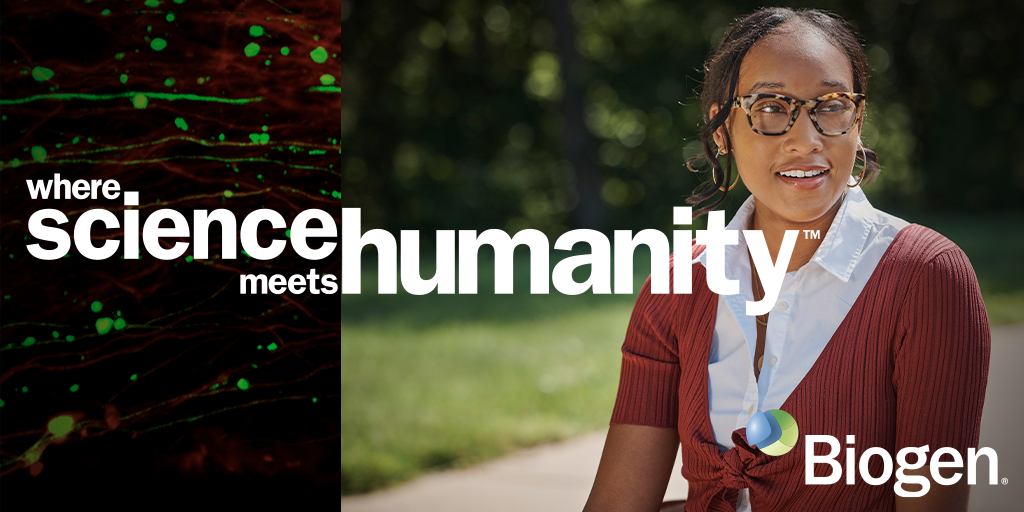 "We need to not only educate healthcare providers about differences in disease presentation and outcomes of underrepresented populations, but help them embrace these differences becoming culturally competent to optimize outcomes," said Wanda Castro-Borrero, MD, Director, US Medical MS Franchise at Biogen, who leads a multi-faceted program aimed at increase data generation and publications relevant to underrepresented populations and educating physicians about healthcare disparities, cultural competence and concerns regarding underrepresented and diverse populations. "This can translate into providing the right treatments and resources, but also appreciating diverse cultural aspects. Whether it be patients who bring ten family members into every appointment as decisions are made as a family, patients that required a translator to understand in their native tongue their diagnosis and approach to management or other patients who feel stigmatized and stay silent, these culture nuances can greatly impact patient behavior and care."
Caption: Wanda Castro-Borrero, MD, Director, US Medical MS Franchise at Biogen
Making progress together
After several years of retreating, it was only after a friend with a chronic illness asked her for advice that Lauren knew she had to share her story more broadly. "It was in that moment I realized that many other women of color were likely struggling with similar issues but didn't have anyone to turn to," Lauren said. "Once I started opening up, I quickly realized the acute need within my community: One black woman had lived with MS for 30 years before having a single conversation about it. I'm sure there are many more women like her."
As a result of her own experience and the landscape of patient advocacy for underrepresented patients, Lauren co-founded a nonprofit organization, We Are Ill, which aims to support women of color with MS through educational programming, and in-person/online support groups. During the COVID-19 pandemic, her work has been more important than ever to bring MS patients together (albeit virtually) and foster a sense of community. She is also a passionate advocate around ensuring diversity in clinical trials.
Lauren Work, living with MS
"We absolutely need higher participation of minorities in clinical trials to better understand how treatments will work in our communities," said Lauren. "For African Americans, there needs to be renewed trust around clinical research through education to help people understand the importance of their involvement, not only for themselves but for our community as a whole."
Racial and ethnic minorities remain woefully underrepresented in clinical research, despite the fact that trials should represent the patients who will use the treatments being studiedvii. The low numbers of minorities can lead to unanswered questions around how a drug works in these patient groups and potentially translate into further health disparitiesviii, ix.
"Everyone afflicted with disease should be educated about what to expect, be represented in clinical trials and have access to treatments," says Cherié Butts, Ph.D. Medical Director and Head of Human Biology Research at Biogen. "We must be mindful of the diversity of patient lifestyles with every step of our research and work to factor that into every decision we make. There is simply no other way forward."
Cherié Butts, Ph.D. Medical Director and Head of Human Biology Research at Biogen
Inspiring others, breaking barriers to treatment and supporting patients isn't just up to those experiencing a disease or those who act as a caregiver. Companies, like Biogen, are in a position to drive change. And part of that change is recognizing the historical context of patient mistrust in minority communities and staying committed to understanding the communities we serve. In order to truly be allies for patients, it is up to companies to speak up and create sustainable change.
In addition to Health Equity being one of the company's core pillars, Biogen has several large-scale programs well underway that prioritize diversity and inclusion, such as working to remove barriers in clinical trial participation and using real-world data to better manage MS among all types of patients. The company is committed to understanding and addressing the issue of health disparities and inequity for underserved patient populations. "We need to be vulnerable enough to share our own truths and brave enough to acknowledge that a Black person with MS can have a very different experience than a white person with MS," said Lauren. "I am someone with MS, but I'm also a young woman of color who is a law school graduate and is pursuing all of my dreams, despite my illness. I want others in my community to feel inspired and empowered to embrace what is ahead, knowing there are other women who are pushing down barriers, supporting each other and making space for everyone's unique story."
v Khan O, et al. Neurol Clin Prac. 2015; 5(2):132-142.