Delivering our promise in the real world 
"Get your cholesterol down, lower blood lipid levels and watch your blood pressure." These are everyday phrases for people living with heart disease. These numbers (or 'biomarkers') provide physicians critical clues about how treatments are working and how disease is progressing.

But in the field of neurology, there are no simple blood tests or concrete numbers to carefully monitor disease progression far beyond the moment of diagnosis. There are few tangible insights about these debilitating diseases that fundamentally affect who we are as humans – how we move, how we think, our very sense of self.

Biogen set out to change this reality by pioneering a new approach: an innovative network called MS PATHS (Multiple Sclerosis Partners Advancing Technology and Health Solutions), which has the potential to transform patient care by using real-world data to better track and manage disease.
MS PATHS leaders in Medical Evidence, Research and Innovation at Biogen: Elizabeth Fisher, PhD, Senior Director Global Technologies (left) and James R. Williams, PhD, Senior Director (right).
Using the power of real-world evidence
Real-world data has become a hot topic in recent years, spurred by development of electronic health records, which make it possible to collect data from a broad spectrum of patients. Newer innovations, like digital technologies, hold the possibility that we will be able to assess how treatments are working outside of a controlled clinical trial setting, possibly in real time.

Typically, patients with MS would provide their neurologists with only qualitative responses – "had a relapse", "walking a bit slower than usual" or "feeling run down". But now, with MS PATHS, Biogen is tackling the monumental task of collecting standardized information from tens of thousands of patients with the hope of better integrating quantitative data into MS care.

While the complexity of neurological diseases comes with a high risk of failure which may have kept others away, Biogen remained focused and developed what's currently the only learning health system in MS.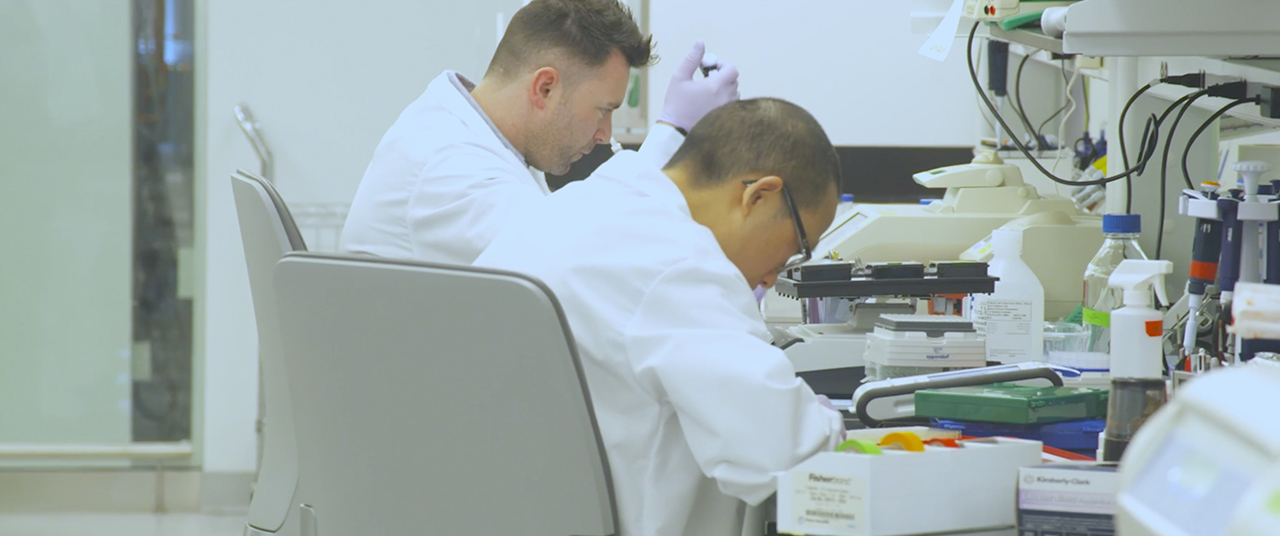 ---
Blazing the path forward
In collaboration with the Cleveland Clinic, Biogen started by collaborating to create a standardized test (Multiple Sclerosis Performance Test or MSPT) that could be easily used during routine doctor visits without traditional technician-administered testing.

By using an iPad interface, patients answer questions about their current state (e.g., employment status, living independently, walking with assistance) and take performance tests related to cognition, vision, manual dexterity and walking speed. This assessment is completed in about 30 minutes and with minimal supervision.
MS PATHS Imaging Team Members in Cambridge, 2019: [Rodrigo Perea, Maria Laura Blefari, Lasya Sreeramagiri, Sara Makaretz, Adrian Tsang and Tuchuan Zhuang].
With this data, at each visit, the doctor may gain more precise knowledge about the patient's condition and changes over time. The data also feeds into a larger aspirational goal: analyzing data on a broad scale across the entire MS community, which could potentially lead to new insights about the disease. We hope that these discoveries could contribute to uncovering the biological basis of progressive MS or to realizing the ultimate dream of personalized medicine for MS patients.
Fall 2018 MS PATHS Investigator Meeting held on November 8-9, 2018 in Dulles, VA: Carol Singh, Paola Bronson.
MS PATHS in practice
"Even though neurologists have had disease modifying therapies for over 25 years, treating MS patients has been more an art than science, because there were no standardized, precise measures of patient outcome generated during the medical visit," said Richard Rudick, Vice President, Medical Evidence, Research and Innovation at Biogen. "Our journey has taken six years. Through it all, we remained focused on generating and using real-world data to enhance care not only for individual patients but for the entire MS community." 
Established in 2016 with ten founding institutions, as of fall 2019 MS PATHS has since collected data from more than 17,000 patients from more than 50,000 patient visits.  The MSPT component of the program has now expanded to 48 additional centers in Australia, Europe, Canada and across the U.S. And while researchers are passionate to share MS PATHS updates with the medical community – with more than 100 presentations at local, national and international meetings to date – they are eager for real-world impact. Recently, MS PATHS was utilized in developing the framework of a value-based contract for Biogen's MS treatments with a large U.S. regional insurer.

The program is also introducing a new capability called MS PATHS Image Evaluation (MSPie). MSPie, for the first time, will provide magnetic resonance imaging (MRI)-based metrics at the point of care, through a collaboration with Siemens Healthineers. The data generated through this technology will assist neurologists in measuring MS disease activity and progression, which will allow data-driven treatment decisions.

Researchers are making headway on another important front, by using blood samples collected from MS PATHS patients and stored in a biorepository. We are investigating using these samples to validate a promising biomarker – serum neurofilament light (sNfL). sNfL is proving to be a sensitive marker for disease severity and response to treatment and may be an important supplement to MRI. And, we hope that the collaboration with Siemens Healthineers could provide an avenue to allow this assay to enter clinical practice as an approved blood test in the future.
Researchers within MS PATHS have already begun using the data to broaden the understanding of MS and differences in patient outcomes across subgroups.  Recent works have detailed the prevalence of cognitive impairment in MS and its relationship to brain atrophy, explored how comorbidities impact MS and its biomarkers, and described how African Americans with MS are more likely to experience severe disability. MS PATHS offers a unique opportunity to study underrepresented populations due to their the higher participation rate in MS PATHS compared to clinical trials and other real-world studies. The diverse patient population, combined with the MSPT, MRI and biomarker data, offer a unique opportunity to understand the disease from a holistic perspective.

"These evolving technologies are giving us the opportunity to quickly learn more about our patients' conditions right in the office, focusing on functional outcomes, and to track their progress with much more than just anecdotal evidence which is a huge step forward in treating MS patients," noted Tjalf Ziemssen, MD, director of the MS center Dresden. "Seeing how well MS PATHS is being used in clinical practice is groundbreaking not only for the MS community, but for the field of neurology as a whole."