Our Leadership in Multiple Sclerosis
Understanding the Impact of MS
Report: State of MS
When it comes to information about living with multiple sclerosis (MS), more is better. More than nine in 10 patients say – and neurologists tend to agree – that they like to know everything about their MS, whether it's good or bad.
How do we know? We asked.
Commissioned by Biogen and conducted online by Harris Poll, the State of MS survey sought to understand the MS experience by surveying those in the trenches: people living with and treating the disease. The survey involved 982 adults diagnosed with MS and 900 neurologists in Germany, Italy, Spain, the United Kingdom (UK) and the United States (U.S.). Developed in partnership with the State of MS Consortium, an international steering committee of treating neurologists and representatives from patient advocacy groups, the survey delved into key aspects of MS care.
There are many questions that arise when it comes to MS treatment. When selecting one treatment over another, how is that responsibility shared between the neurologist and the patient? When and how are treatment goals set? Does the patient's experience with that treatment regimen turn out to be what he or she expected? How is treatment success defined and measured? These are vital decisions that are unique to each patient's situation, but the need for good communication is common to all.
When communication is done well, it reinforces a healthy partnership between clinicians, patients and others actively involved in MS care. And for truly successful treatment regimens to be developed and maintained, patient participation is fundamental.
As the survey showed, many people with MS reported being involved in their treatment. More than half of patients reported being very satisfied or satisfied with their disease-modifying therapy (DMT) and 82 percent participated in the decision-making process when choosing their DMT. More satisfied patients tended to report being very comfortable speaking about their MS to their neurologist and were more likely to report that they took a more active role in choosing their DMT compared to less satisfied patients.
What did we learn? In short, despite the generally positive assessment of current practice in MS, certain aspects of MS care could be better and it is our hope that the survey will serve as a catalyst for improvement.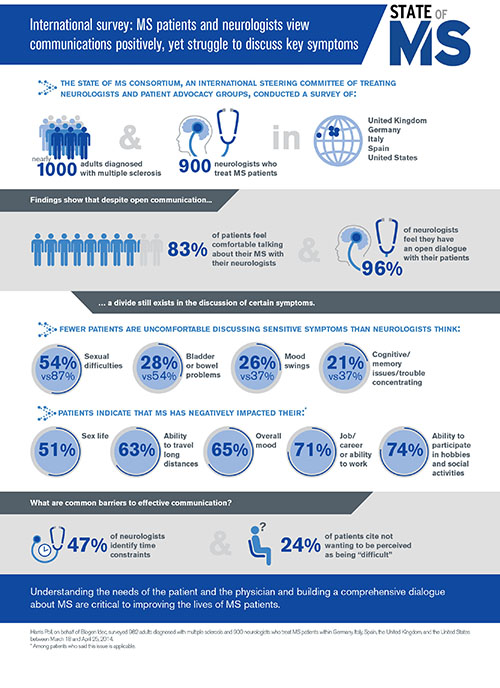 Spotlight on Communication
Overall, MS patients and neurologists view their communications positively, yet they struggle to discuss key symptoms. Understanding the different needs of patients and physicians and building a comprehensive dialogue about MS are critical to improving the lives of MS patients.
The Many Factors Affecting MS Treatment Satisfaction
Multiple factors influence patients' reported treatment satisfaction, such as treatment expectations and degree of collaboration with their physicians. These insights identify opportunities for improvement and may allow patients and physicians to better communicate regarding their MS.
A Closer Look at the Challenges
Patients and neurologists identified challenges in managing MS treatment. Establishing a strong partnership may help physicians understand the aspects affecting a patient's overall experience.