Our Leadership in Multiple Sclerosis
Understanding the Impact of MS
MS-UP: Improving MS Outcomes in Underserved Populations
As diversity continues to grow in the United States, health inequities among minority populations are also growing. Today, African Americans and Hispanics are more likely to experience medical errors, longer hospital stays, avoidable hospital admissions and over- or under-utilization of procedures. These challenges extend to minorities with MS, some of who are more likely to suffer from severe symptoms and disability than Caucasians with the disease.1
Additionally, the underrepresentation of minorities in clinical trials leads to limited data regarding how they experience MS and respond to treatment. This ultimately prevents healthcare providers from delivering individualized care.1
Determined to improve health disparities among minorities with MS, in 2012, a group of passionate volunteers from various departments within Biogen created an initiative called MS-UP (Underserved Populations).
Since then, this innovative group has been working with physicians, researchers, community advocacy groups and patients around the U.S. to raise awareness of minority health disparities in the care and treatment of MS. Their goal is to improve education and access to solutions in order to improve minority MS patient outcomes. Here are just a few examples of what the MS-UP program has achieved:
MS-UP/Biogen sponsored a study that found that less than one percent of all research on MS – 136 out of nearly 60,000 scientific articles – focuses on minority populations. This is despite evidence that African-American women have higher incidence of MS than Caucasian-American women, and that minorities in the US have a higher incidence of MS compared to people in their ancestral countries of origin.1
MS-UP sponsored a poster on Barriers to Care in MS Patients at the Consortium of MS Centers (CMSC) Annual Meeting. An infographic was created to show patients and physicians where communication breakdowns and other barriers could be impacting care.1
At the CMSC meeting, MS-UP external Steering Committee member Dr. Lilyana Amezcua won the "Best Family and Educational" award presentation for their presentation of "Dentro de Mi", which featured a short video on five Hispanic families living with MS.
MS-UP sponsored a panel on "Increasing Diversity in Clinical Trials through Collective Action and Community Engagement" at the annual National Minority Quality Forum (NMQF) meeting.
Through the efforts of MS-UP team members, Biogen now incorporates collection of race and ethnicity data within their MS clinical trials in the U.S. This helps ensure that the data from those studies will better address the needs of minority patients.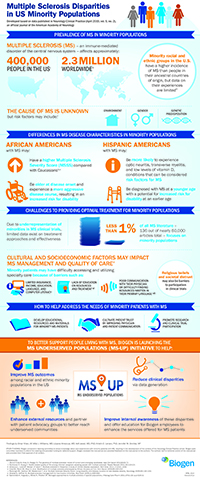 Stay tuned for more updates about MS-UP activities.
[1] Munoz-Culla M, Irizar H, Otaegui D. The genetics of multiple sclerosis: review of current and emerging candidates. Appl Clin Genet 2013;6:63-73